最新号 autumn 2023

The JAPAN MISSION JOURNAL (JMJ) is a long-standing Catholic publication in English dealing predominantly with all facets of evangelization and inculturation of Christianity in Japan. It approaches Christian mission from an Asian perspective. JMJ boasts a history of over 70 years.
Place your order here below.
Price/unit: ¥1,000 (Shipping and tax fees not included)
Contact :
& For article contribution and further information.
JMJ is a Quarterly, 72 pages per issue.
ISSN1344-7297
1部定価:1,100円(税込) 送料別
---
●富士山マガジンサービスからご注文(クレジット・コンビニ払いをご希望の方)   


Domestic:
   ¥4,900
International:
 ●Surface Mail:
   ¥6,300 or US$45.00 per year
 ●Airmail:
   [Asia]
   ¥6,000 or US$51.00 per year
   [Oceania, Canada, Mexico, Middle East, Europe, North America]
   ¥6,800 or US$54.00 per year
   [Central America, South America and Africa]
   ¥7,300 or US$56.00 per year
 ◆Please make your check to Oriens in U.S. dollars to avoid prohibitive conversion rates.
  Or contact the e-mail address below if you wish to pay
by credit card:
serials@jptco.co.jp
  (JAPAN PUBLICATIONS TRADING CO., LTD.)
日本やアジアでの福音宣教活動や宗教文化などをテーマとする論文、ブックレビュー、トピックスなどを収録。カトリック英文研究誌として70年以上の歴史があり、キリスト教の使命について、アジアの観点から考えます。海外の方に、現代の日本の精神文化を紹介するためにも最適です。 
英文/季刊(年4回発行)72ページ、年間定期購読 4,900円(税・送料込) ISSN1344-7297            
電話、FAXでのご注文も承っております。
定期購読のほか、特定号のご購入も承ります。
海外発送遅延のお知らせ
郵便事情により、定期刊行物の海外便のお届けに遅延または引き受け停止が生じています。
引き受け停止分につきましては、発送が可能になり次第、順次お送りいたします。

Notice of delay in overseas shipment
Due to postal conditions, there has been delay or suspension of delivery of periodicals on overseas flights.
We will resume our shipment service as soon as it is possible.
autumn 2023  VOL. 77,  No.3
CONTENTS

| | |
| --- | --- |
| James H. Kroeger | Pope Francis and Missionary Pneumatology |
| Martin J. Murphy | Ezekiel's Exalted Vision |
| John P. Keenan | Reading Ephesians in Light of Zhiyi |
| Javier Moreno Pampliega | Origen on the Love of Truth |
| Esben Petersen | N.F.S. Grundtvig: A Forgotten Hero of Theology |
| Sean O'Conaill | René Girard:The Creed Overcomes the World |
| Jean-Pierre Mukengeshayi Matata | Liberation Theology and Social Transformation |
| Thomas O'Loughlin | Sacrosanctum Concilium at Sixty: Finding our Bearings |
2023
2022
2021
2020
2019
2018
2017
2016
2015
2014
2013
2012
2011
2010
2009
2008
2007
2006
Published four times a year, JMJ features:
● In-depth analysis of Japan's socio-cultural and religious situation from a Christian perspective.
● Articles by Japanese and non-Japanese Church workers and scholars.
● Book reviews of Japanese and world-wide publications relevant to the apostolate.
JMJ presents easy-to-read, down-to-earth reports on Christian education, liturgy, ecumenism, catechetics, important Church documents, and literary and interreligious topics.
In the past, JMJ has helped pioneer cross-cultural discussion on crucial topics, such as ancestor veneration, Zen meditation, the meaning and role of Shinto customs, the writings of Endo Shusaku and other Christian authors, and the like.
Having entered the third millennium, JMJ focuses on the specific problems the Church is facing today, particularly in the Asian context of the triple dialogue with cultures, with other religious traditions, and with the immense multitude of the poor.
JMJ is a useful tool for both libraries and personal reference.
It may be ordered from
Oriens Institute for Religious Research
2-28-5 Matsubara, Setagaya-ku 156-0043, Tokyo, Japan
Tel.81-3-3322-7601 FAX. 81-3-3325-5322
Contact:
Please make your check to Oriens in U.S. dollars to avoid prohibitive conversion rates.
Gide to 2024
2024年度のご案内
<画像のタッチで拡大>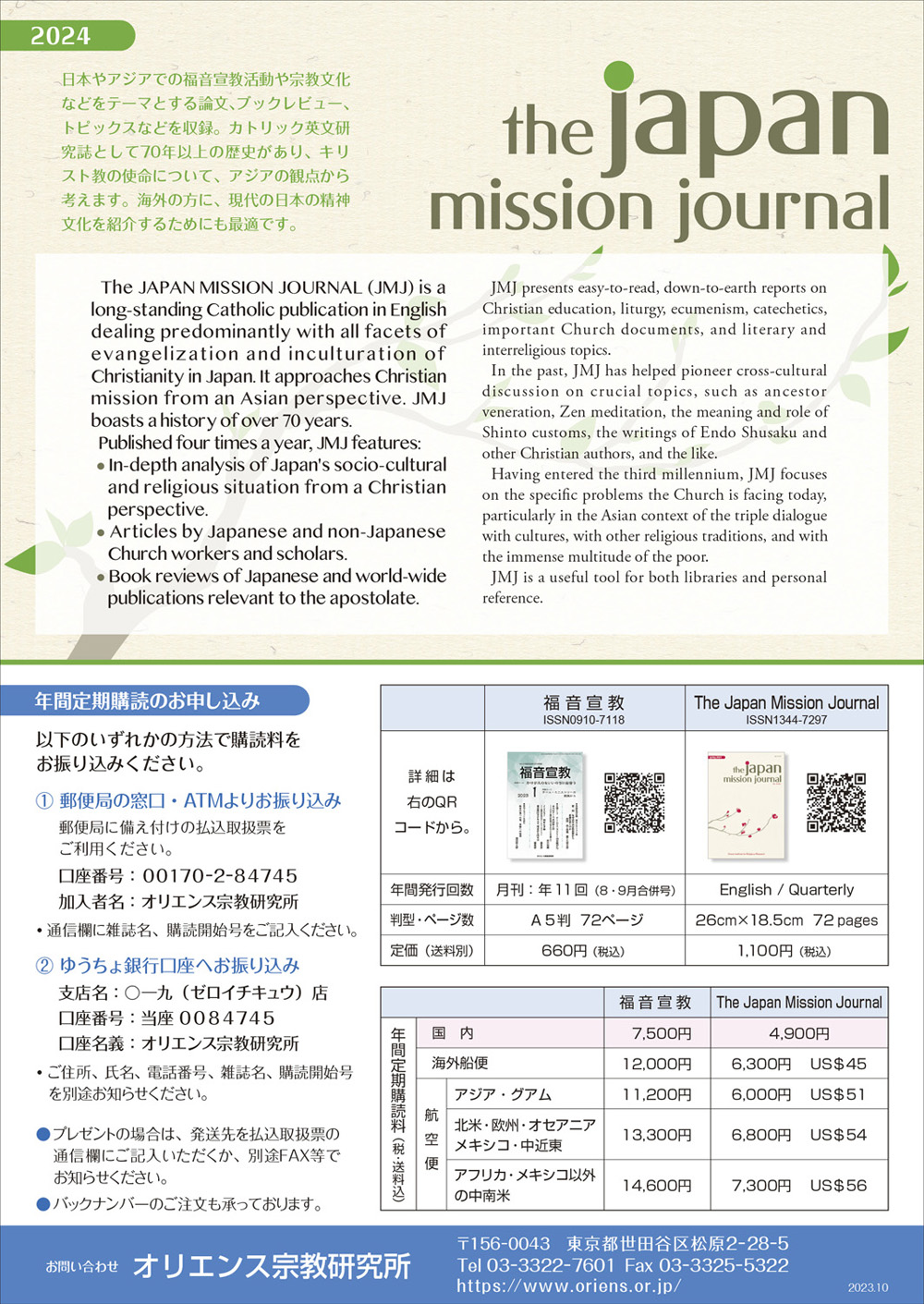 BOOK
●English Books
(w/o tax)
Christianity Encounters Japan
1968
J. J. Spae
●B920/2,000yen
Shinto Man 
1972
J. J. Spae
●B921/1,000yen
Buddhist-Christian Empathy
1980
J. J. Spae
●B922/3,500yen
The Catechetical Problem in Japan, 1549-1965
1967
G. A. Mueller
●B923/1,500yen
A Commentary to the New Japanese Catechism.
1972
P. Nemeshegyi
●B924/550yen
Contact:
(Order for Book)
---
---